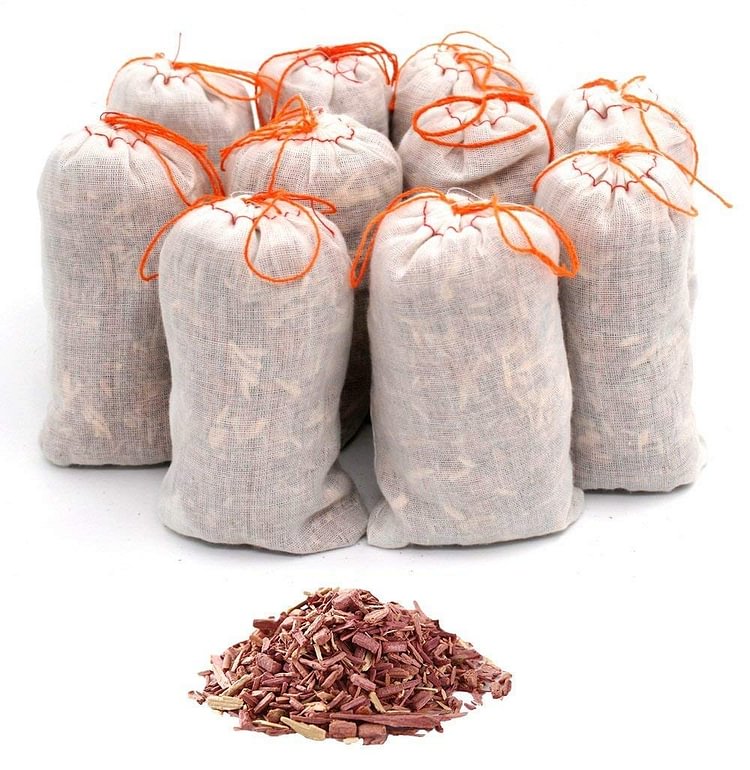 Wahdawn Aromatic Cedar Chips Sachets Bags for Clothes Storage
100% Made of North American Aromatic Eastern Red Cedar Wood

[ PACKING & ORGANIC MATERIAL ] Come in pack of 10 pieces. Made from 100% natural origianl American eastern aromatic red cedar without adding any toxic chemicals. Environmentally healthy for kids and pets, a better alternative of oldfashionmothballs.
[ STORAGE ACCESSORIES ] Natural cedar aroma keeps clothes smelling fresh and moth repellent insect control, against odors and absorb moisture, natural way to attack natures negatives, protect sweater, wool clothes. Idea for dresser drawers, closets and clothes storage containers, suit bags & storage bin, kitchen cupboard & pantry. And easy to use - can hang up on hangers in wardrobe, placed in drawers or laid on pantry or put in gym bags athletic gear.
[ NATURAL SHOES DEODORIZER & GET RID OF CAR SMELL] Use these cedar sachet as shoes insoles will tackle the problem of stinky shoes and soon there will be no smell, so you do not need to throw your favorite shoes every time because of unpleasant smell reason. Aroma of absorbent cedar sachets air freshener can reduce car odors, improve the smell of a new car more tolerable.
[ PET BEDDING SMELLING FRESHENER ] Red cedar absorbs wetness and reduces odor naturally, it provides a clean, forest fresh and pleasant scent, comfortable smelling for pets, Perfect for dog beds and idea for bedding for kennels.
[ LONG LASTING AND RENEWABLE FRAGRANCE ] Better than cedar wood blocks or balls which you have to sand to revive the smell, these are soft cedar chips shavings in a sturdy cotton pouch you just scrunch a few times to bring back the pure natural cedar aroma.